Plants with Green or Brown Flowers
Green or brown flowers are most often found on plants that are not insect-pollinated and generally have rather small petals. Many of them are wind-pollinated and so do not need to advertise their wares with bright colors.
This section also includes a number of plants with flowers that are completely petalless (thus appear green) or plants whose flowers may be reddish or whitish in color but appear insignificant because they are so small.
Within the colour sections, the pictures are grouped so that similar-looking (though not necessarily closely-related) plants will be near each other. This should help to reduce your search time. Also, in cases where there are a number of very similar species, a representative species is shown here, but clicking on it will take you to a page that tells you how to tell the more difficult species apart.
If you still can't find your plant, you either have something very interesting that you may wish to tell us about, or we just haven't got a picture of it yet - we're still working on the latter!!
Click on the pictures below to go to the species pages.
| | | |
| --- | --- | --- |
| | | |
| duckweeds | mosquito-ferns | pondweeds |
saltworts
& allies




goosefoots




mermaidweeds




nettles




Mulberry-weed




glassworts




sea-blites




parsley-pierts




Common Box




amaranths
& pigweeds




plantains




plantains




spurges




Green Arrow Arum




Jack-in-the-pulpit




Skunk-cabbage




cattails




sweet-flags



| | | | |
| --- | --- | --- | --- |
| | | | |
| sandmats | Water-purslane | pearlworts | cresses |
| | | | |
| --- | --- | --- | --- |
| | | | |
| Annual Knawel | vines | bittersweet-vines | spindles |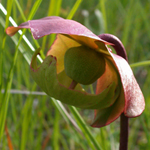 Purple
Pitcherplant
Heath Wood-rush




Indian
Cucumber-root




greenbriers




Wild Yam




Green
False-helleborine




| | | |
| --- | --- | --- |
| | | |
| bartonias | Common Asparagus | Beechdrops |

cattails




Jack-in-the-pulpit




Skunk-cabbage




Green Arrow Arum




orchids




orchids




nettles




pondweeds




green composites




Rough Cocklebur




goosefoots




crotons and
mercuries




bur-reeds




rushes




Wool-grass




beak-sedges




umbrella-sedges




bulrushes




spikerushes




flat-sedges




Common Ivy




Wild Sarsaparilla




pinweeds




mugworts




plantains




docks & sorrels




docks & sorrels




Salad Burnet




Green
False-helleborine




Wild Onion




oaks




hickories &
walnuts




Sweetfern




Box-elder




myrtles &
bayberries




Honey Locust




mulberries




mulberries




willows




willows




vines




poison-ivies




spindles




spindles




bittersweet-vines




greenbriers




vines




elms




Common Box