Myrtles & Bayberries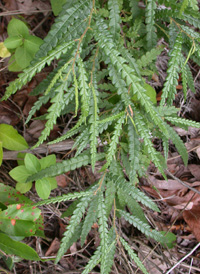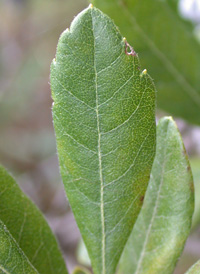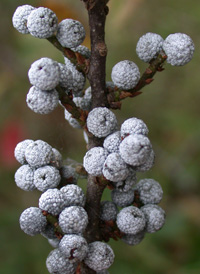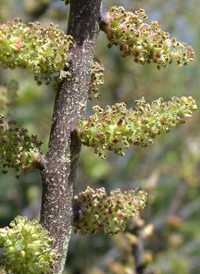 What are they?
A family of woody shrubs, largely identified by their usually fragrant, leathery leaves and often waxy fruits. Bayberries and wax-myrtles have male and female flowers on separate bushes.
Where are they found?
Typically found in poor, acid soils with some species favoring boggy conditions and others being largely confined to coastal dune habitats.
Identification
Sweetfern is easily told by its distinctive leaves, but the bayberries and wax myrtles are complicated and there is some disagreement amongst botanists as to how many species are involved and how best to identify them.
Northern Bayberry Morella pensylvanica
A low to medium, spreading shrub, most typically found in coastal sand dune communities where it can often be the dominant species. Flowers May to June. Differs from Wax Myrtle in being deciduous and having leaves that are more oval in outline with the widest part towards the tip. Bayberry leaves are more parallel sided and have larger teeth along the edge. Note also that bayberries have yellow resin dots only on the underside of the leaf - Wax Myrtle has these dots on both surfaces.
Habit

Male flowers

Female flowers

Leaf

Yellow resin dots
on leaf underside

Young berries

Mature berries

Winter twig
Wax Myrtle Morella cerifera
A common understorey bush found in open woodland and other shady places. Male and female flowers are carried in separate heads. Flowers May to June. Very similar to the bayberries but evergreen; this is usually most apparent in spring when Wax Myrtle leaves look battered and torn after the winter weather and bayberries are sprouting their new leaves. Also at this time, Wax Myrtle flowers are buried amongst the leaves, while bayberry flowers are on naked stems. At any time of year, Wax Myrtle can be identified by having yellow resin dots on the upper and lower surface - bayberries only have these dots on the lower surface.
| | | | |
| --- | --- | --- | --- |
| | | | |
| Habit | Male Flowers | Leaves | Leaf upper surface |
| | |
| --- | --- |
| | |
| Winter twig | Bark |
Sweetfern Comptonia peregrina
A low understorey bush found in open woodland and old, regenerating fields on acid soils. Often forms spreading colonies. Male and female flowers are carried in separate heads, but on the same plant. Flowers April to May.
| | | | |
| --- | --- | --- | --- |
| | | | |
| Leaves | Leaf | Male Flowers | Female Flowers |
| | |
| --- | --- |
| | |
| Fruit | Winter twig |