Saltmarsh Grasses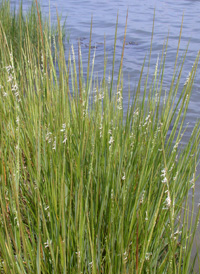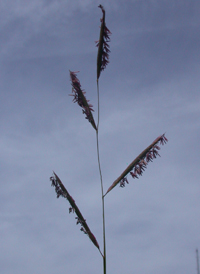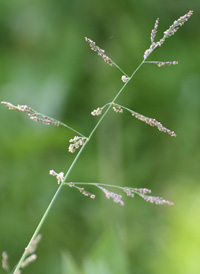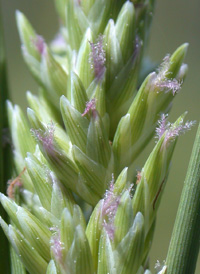 What are they?
Cord-grasses make up the vast majority of plants in saltmarsh ecosystems and are invaluable to humans. Smooth Cord-grass forms great swathes of vegetation that stabilize coastal, tidal muds and protect the coastline from erosion. Salt-marsh Cord-grass is extensively used to produce salt meadow hay. The other species in this group form smaller colonies within the saltmarsh ecosystem, usually in areas further up the marsh which receive fewer saltwater inundations.
Where are they found?
Cord-grasses are found abundantly along both the Atlantic backbays (between the mainland and the barrier islands) and along the shores of the Delaware Bay. Some species are occasionally found at inland sites, especially along roadsides where salt is used in the winter or on areas where evaporation exceeds precipitation, creating a high salt content in the soil.
Identification
Cord-grasses are recognizable by their tough, wiry stems, rather waxy (salt-resistent) leaves and flowers which are arranged in narrow, rigid heads. Other species are rather more variable. For species recognition, see the individual species comments.
Smooth Cord-grass Spartina alterniflora
An abundant, dominant plant of saltmarshes where it often forms extensive, pure stands. Flowers July to October.
| | | | |
| --- | --- | --- | --- |
| | | | |
| Habit | Flower spike | Flower close-up | Leaf ligule |
Large Cord-grass Spartina cynosuroides
Occurs in discreet clumps of tall vegetation on saltmarshes. Flowers August to October. Very similar to Prairie Cord-grass but the outer bracts on the flower (the glumes) are greatly different in size (see picture).
Flower spike

Floret showing
unequal glumes

Leaf blade

Leaf ligule
Salt-meadow Cord-grass Spartina patens
A dominant grass in the upper reaches of saltmarshes and occasionally in more brackish sites. Usually found higher up the saltmarsh than Smooth Cord-grass. Flowers July to September. Told easily from the other cord-grasses by its very narrow, wiry leaves.
| | | | |
| --- | --- | --- | --- |
| | | | |
| Habit | Flower spike | Flower close-up | Leaf ligule |
Reflexed Saltmarsh-grass Puccinellia distans
An introduced European species which may be found along the drier, bare mud areas at the back of saltmarshes. More often found in the salt zone along the edge of main roads that are salted in winter, or on bare areas where evaporation exceeds precipitation, especially on muddy, clay soils. Flowers May to July. Early flower heads are similar to meadow-grasses, but as the flowers mature, the branchlets bend backwards (reflex) towards the base. Whole plant rather wiry and thin.
| | | | |
| --- | --- | --- | --- |
| | | | |
| Habit | Flower spike | Flower spike | Flower close-up |
Marsh Spike-grass Distichlis spicata
A common salt meadow species, forming large mats of low vegetation and a constituent of salt meadow hay. Flowers August to October. Forms large, low carpets of vegetation, often mixed in with Salt-meadow Cord-grass. An unusual grass in having the male and female flowers on separate plants.
| | | | |
| --- | --- | --- | --- |
| | | | |
| Habit | Young flower spike | Female flowers | Male flowers |
Annual Beard-grass Polypogon monspeliensis
(Annual Rabbitsfoot-grass) An introduced species from Europe. Most often found at the drier edge of brackish coastal marshes but may also occur as a weed in bare or disturbed ground. Flowers July to September. A short, annual plant than grows in fairly tight tufts. The dense, fluffy flower heads are readily identifiable.
| | |
| --- | --- |
| | |
| Habit | Flower spike |
Curved Hard-grass Parapholis incurva
(Curved Sicklegrass) An introduced species from Europe. Only recently discovered in Cape May County so the true distribution remains unclear, but this species is typically found in coastal areas, growing on hard muddy or sandy substrates or on stoney ground. Flowers June to September. A short grass that forms tight clumps of narrow, strangely-curved flower spikes. Plants in very sunny, exposed positions often become deep reddish-purple in color.
| | | |
| --- | --- | --- |
| | | |
| Habit | Flower spike | Flower spike |