The Oleaster Family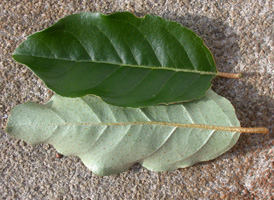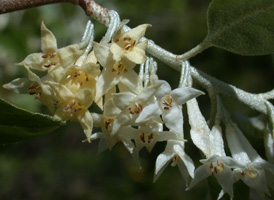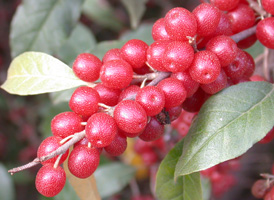 What are they?
The oleasters are rugged, twiggy shrubs which are tolerant of the salty air of coastal growing conditions and most tend to be drought resistent too. Several species have proven to be invasive aliens.
Where are they found?
Widely planted in the past as coastal shelterbelts, members of this family have spread rapidly into drier open fields, roadsides and waste places.
Identification
At present there is just one species known to be established in Cape May county, which can be told by its overall silvery look to all parts of the plant.
Autumn-olive Elaeagnus umbellata
A common and widespread invasive shrub, native to eastern Asia. Flowers April to May. Readily identified by its silvery look, caused by the presence of copious whitish hairs on all parts that lay flat against the plant.
| | | | |
| --- | --- | --- | --- |
| | | | |
| Habit | Flowers | Leaf underside | Leaves |
| | |
| --- | --- |
| | |
| Berries | Winter twig |
Russian-olive Elaeagnus angustifolia
A potentially invasive shrub, native to eastern Asia. This plant is not known in the wider countryside around Cape May but is included here to aid identification as it is widespread elsewhere in the USA and is often confused with Autumn-olive. Flowers May to June. Has the same silvery look at Autumn-olive but the leaves are narrower and willow-like.