Daisy Family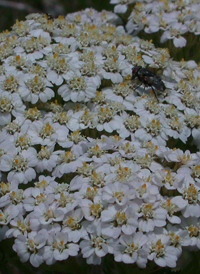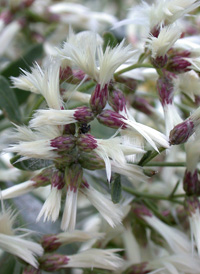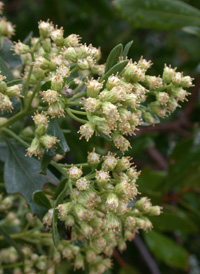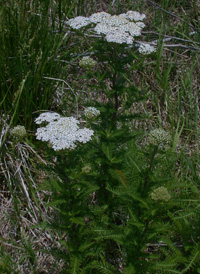 What are they?
This page brings together a few members of the daisy family which look rather different to other members of the family and so could not be included on other pages.
American Yarrow Achillea borealis
A very common species of grassy roadsides, disturbed ground and field edges. The many-flowered, flat heads superficially resemble some members of the carrot family, but the leaves are distinctive, being twice-divided (bi-pinnate) into narrow segments, giving them a very feathery look. Flowers late May to October, occasionally later in mild years.
Habit

Close-up of flowers

Early-season plant

Leaves are deeply divided
and feathery
Eastern Baccharis Baccharis halimifolia
A common woody shrub of saltmarsh edge, wet dunes and other coastal wetland areas. Flowers August to September, but so eye-catching with its fluffy white seedheads that it could be thought to be in flower through to late November. Some leaves remain on the bush overwinter, but any bare twigs can be told by their distinctive grooves.
Habit

Flowers (male on left,
female on right)

Leaf

Seedheads
| | |
| --- | --- |
| | |
| Winter twig | Bark |