The Cactus Family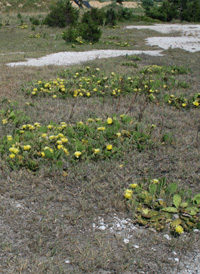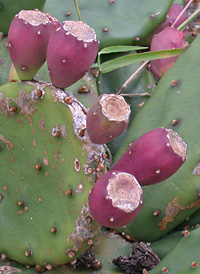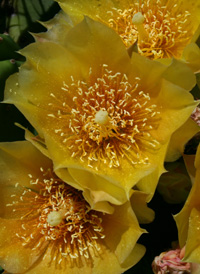 What are they?
The Cactus Family is an important part of the vegetation of the Americas, with the highest number of species occuring in the arid parts of North America and the dry slopes of the western Andes. Just one species reaches New Jersey as a native.
Where are they found?
Cacti are famous for their ability to survive long periods without water, by storing it in their stems. As such, they can mostly be found in arid areas.
Identification
Prickly-pears are readily identified by their stems, which have becomed flattened, rounded pads. The tiny spines of prickly-pears are barbed and can be a real problem if they get into the skin.
Northern Prickly-pear Opuntia humifusa
(Eastern Prickly-pear) Common in arid areas south of Cape May canal, becoming increasingly less common northward, though does occur throughout the county. Flowers June to July.
Habit

Flowering plant

Close-up of flower

Prickly Pear fruits